Registration
Please visit https://medical.marswales.org/ (for non GPs) (for non GPs) and https://gp.marswales.org/ (for GPs) and click on the register now button – as highlighted by the red arrow in this image below.

You will be asked for your personal details (seen in the image below), including your GMC number, which will be cross checked against the GMC database. To register you need to be registered with a GMC number, have a prescribed connection in Wales, and no longer be in training.
Each aspect of this form is compulsory, with the exception of your telephone number.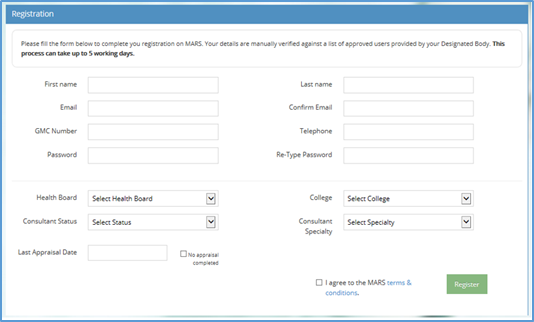 Once you have submitted your registration request, MARS will automatically check your account matches the GMC register. Once this has taken place you will be notified by email whether your registration has been successful or not.
If your request is unsuccessful please contact the Revalidation team within your Health Board.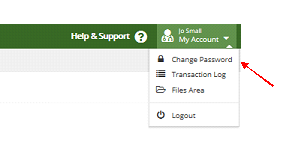 Once logged in you are able to change your password in the top right hand corner, under 'My Account' select the white drop down arrow and the first option is to change password.

You will then see another screen which prompt you to enter a new password and re-enter, then select the green 'Save' button.